WHAT YOU WILL GET
FREE UPDATES
FREE INSTALLATION
FREE SUPPORT
PHPTRAVELS V7.0 UPDATED WEBSCRIPT
Demo URL: https://phptravels.1dscript.com/

Admin panel : https://phptravels.1dscript.com/admin

Admin Username: [email protected]

Admin Password: demoadmin
Android App : https://www.1dscript.com/item/phptravels-mobile-app-android/224441
Ios App : https://www.1dscript.com/item/phptravels-ios-native-app/919714
50% discount Full Package : https://www.1dscript.com/item/php-travels-android-ios-web-script-free/425491
PHPTRAVELS NEW TRAVELPT THEME : https://www.1dscript.com/item/travelpt-phptravels-v6-5-latest-theme/231143
WORLD'S LEADING BOOKING SOFTWARE
We offer the most cutting-edge online booking solutions on the market. Mobile, Tablet, Laptop & Desktop
Users enjoy a fully tailored experience while browsing our travel portal. we boast your travel business with our technology.
Once PHPTRAVELS installed, no programming skills are required to manage settings. Further down is a list of features supported by the our software. PHPTRAVELS has completely inbuilt and automated modules which are specific for online travel business. PHPTRAVELS has been meticulously designed for owners of hotels, tours, vacations, car rental, cruises, travel agencies, restaurants, apartments, villas, bungalows and rooms which are given out for online bookings. PHPTRAVELS comes with packs in many essential features which are editable Please scroll down and read all major features.
---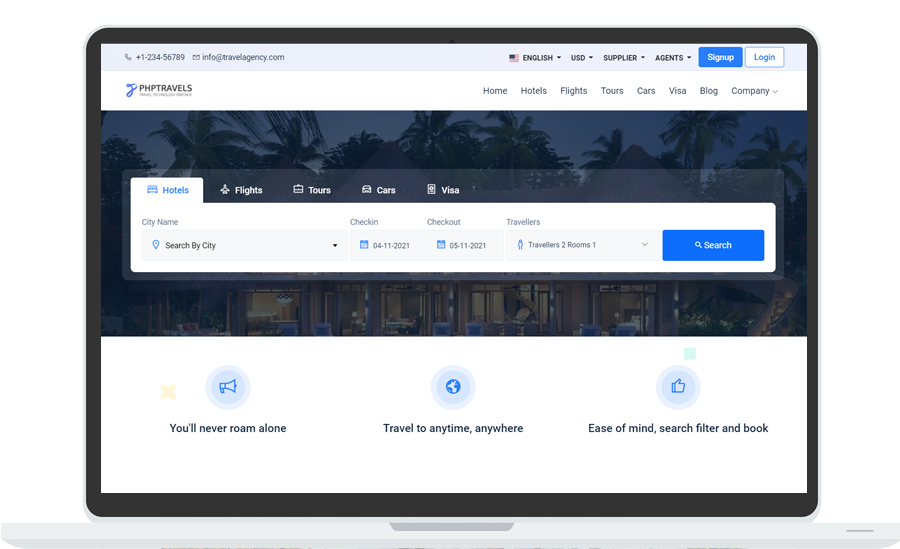 A COMPLETE BOOKING ENGINE.
Start your online travel business within 2 Minutes
Complete Booking Engine
Billing, Reports and Invoicing System
Modules Based Functions For each Section
Build by PHP Codeigniter Framework
100% Customizable and Robust Application
Developed by Professionals of Travel Business