Free Installation, Free Support included.

DOWNLOAD PHPTRAVELS WEBSCRIPT LATEST VERSION 7.3 NULLED

This is latest updated version of phptravels 7.3 nulled. Phptravels script is for hotels, tours, cars, flights booking sites. start your own travels business by downloading this website.
Also, you will get Free Whatsapp Support from 1dscript.
you can also contact us on our email [email protected] and Live chat.
Use this for your business or for clients travel business, all modules are there, fully open source php code on codeigniter.
Front End Demo

Demo URL: https://phptravels.1dscript.com/

Administrator Back End Demo

Admin URL: https://phptravels.1dscript.com/admin

Email: [email protected]

Password: demoadmin

Supplier Back End Demo

URL: https://phptravels.1dscript.com/supplier

Email: [email protected]

Password: demosupplier
100% OPEN-SOURCE PHP BOOKING SCRIPT
PHPTRAVELS is a PHP & MySQL commercial solution for running your very own online booking business for hotels, tours, car rental cruises, air tickets and many more.
---
Cross platform
We ensure your website performs across multiple platforms.
Flexible
With our streamlined technology we give you unprecedented level of control.
Easy-to-use
User-friendly front-end and back-end from search to booking process.
Expandable
100% open-source code and ready to extend to any level of requirements.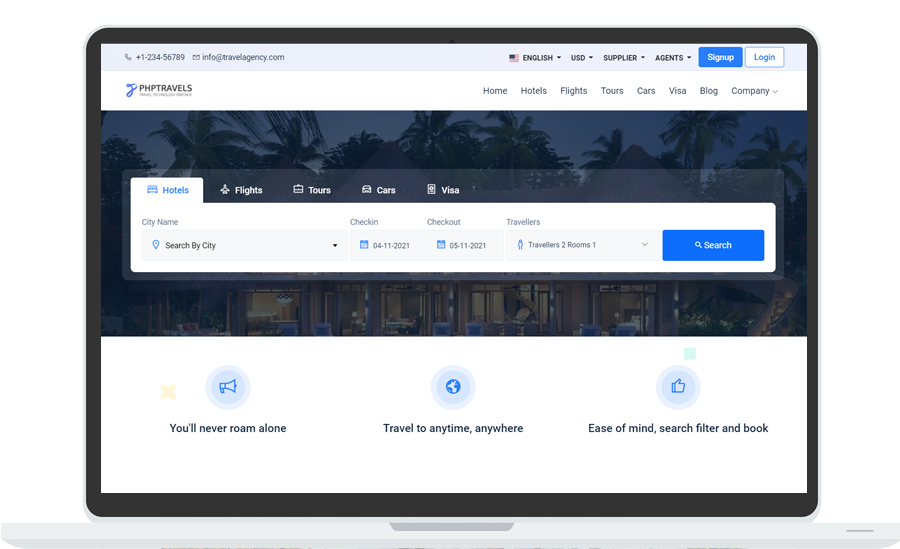 Version v7.3 - FEB 10 2020
CMS dynamic menus option enabled
Admin blog design improved
Admin flights page design improved
Admin hotels design improved
Admin tours design improved
Admin cars design improved
Admin offers design improved
Admin coupons design improved
Admin cms pages design improved
Admin settings page design improved
Admin supplier accounts design improved
Admin email templates design improved
Admin modules design improved
Admin data tables design improved and optimized
htaccess warning added to root
New feature added to edit the position of menus
Upgraded PHP now officially we support PHP version 7.4
Travelpayouts Hotels improved integration with better functionality
HTTPS redirection implemented by default no need to configure anymore
Fixed multiple rows for the availability of rooms availability feature
Frontend flights selection design improved
Frontend URL Copy feature added for hotels tours and cars
Tours module added option to deleted selected location
Suppliers added commission feature
Email template new design implemented
Added discount option for hotels tours and cars
Widgets feature implemented for tour operators now they can share iframe
Complete delete all selected contents on back-end dynamically
Ban by IP featured added to ban any IPs for security measures
Added by default robot.txt for search engine improvement.
Frequently asked questions
Q. Is it Required any License Key?
Ans. No,
Q. Can we use it in multiple Domains?
Ans. Yes you can
Q. Can we get future updates?
Ans. Whenever we receive an update then will provide you.
Q. Is there any charges for Support and Installation?
Ans. No, we Provide support and installation free of cost.
MAXIMUM SECURITY AND RELIABILITY
Secured
SSL & 3D Protection Enabled
Refined all External Connections
Anti Hacking, Backdoors & Shells
Payment Gateways
All Major E-Payment Gateways
Test Mode Enabled with Gateways
Easy to Add More Gateways
Multi Currency
Supported by Major Currencies
Enable Disable any Currency
Add, Edit or Remove Any Currency
Multi Language
Multi-Language System
Translate Any CMS and Page
Add Unlimited Languages
CMS Management
Content Management System
Add Edit Remove Pages And Files
User-friendly Admin Panel
Social Connections
Unlimited Social connections
Add, Edit Remove Options
Upload Your Personalized icons
Offers Module
Setup Offers on the Homepage
Show Hide Offers by Dates
Newsletter
Complete Newsletter Module
Send Unlimited Newsletters
Send to Customized Subscribers
Reviews
Robust Reviews Module
Add, Edit Manage All Reviews
Auto Approve or Approve by self
Extras
Supplements and Extras system
Add, Edit Remove or Customize
Upload Images & Details to Book
Theme Engine
Build Your Own Theme
Customize Any Part of Theme
Build New Theme & Resell to Us
Full Calendar
Full Calendar Pricing System
Customized Prices Specific Dates
Update Room Status Entire Year
Blog
Add, Edit Remove Blog Articles
Upload Images and Data Contents
Manage Articles by Categories
Integrations
Integrate Any XML, API or Source
Dedicated Developers to Help
Simple Code Management
Coupon Code
Percentage or Fixed Price Coupon
Generate for Specified Dates
Userfriendly Coupon Module
Download PHPTravels V7.3 Nulled with Premium support via Whatsapp.